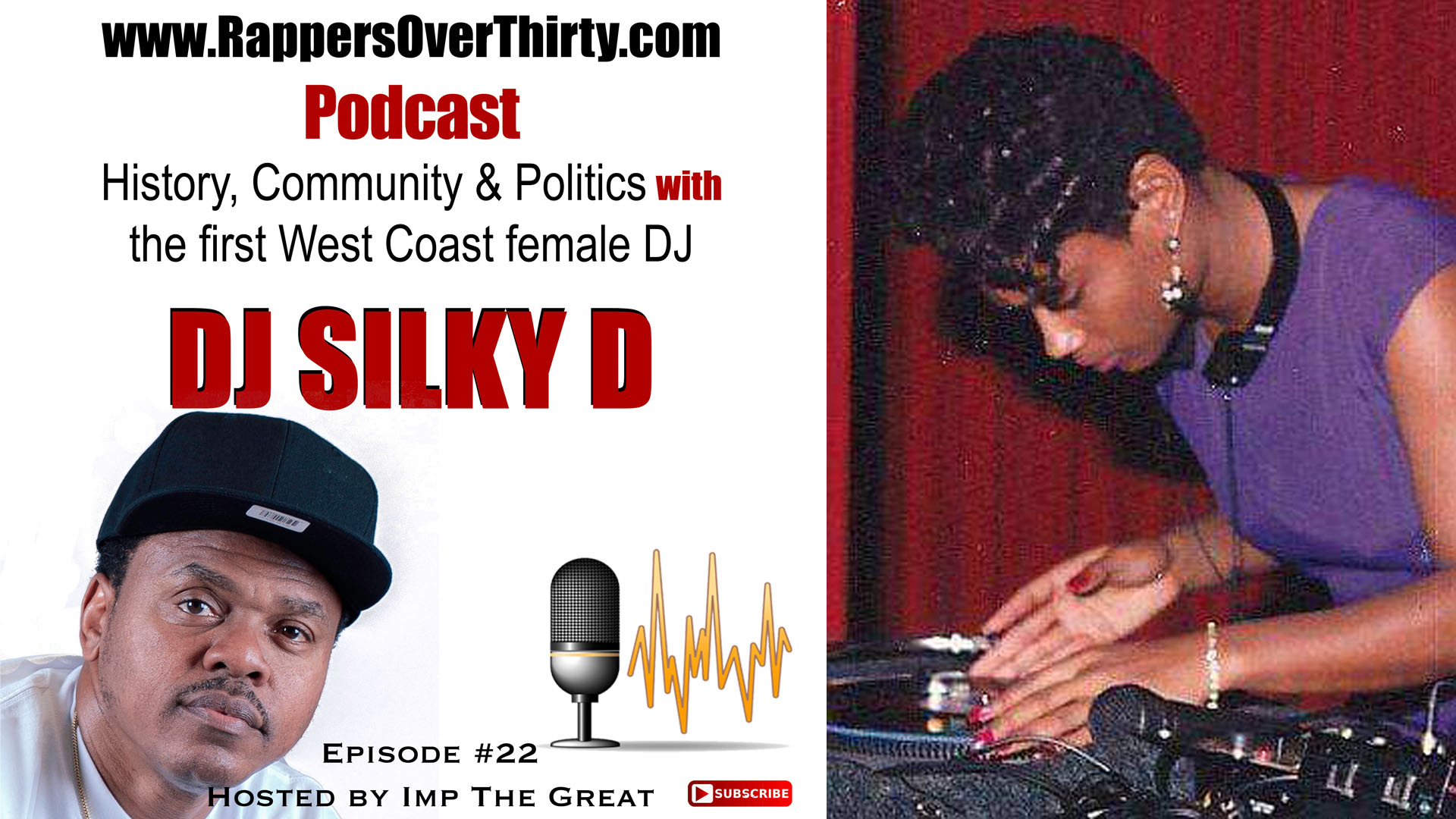 Episode Description
In this episode: I play multiple songs by my son "Creepy Fingers" and ask the question "What happened to his career?" I also play a dope song called "Yah Gone Hear Me" by "Roc Box". My special guest interview is with the Los Angeles native and a music industry original "DJ Silky D". She broke barriers and laid the groundwork in the streets, clubs and on the airwaves of Los Angeles for all aspiring female DJ's. 
She was the only female DJ welcomed by legendary West Coast party crew "Uncle Jams Army" and the first female radio mixmaster for KJLH & KDAY who announced her as the worlds first female DJ. "Silky D" provided her sexy voice for the unforgettable background noises for the 80's classics "Dial a Freak" and "808 Beats" by Egyptian Lover. 
She's worked with numerous legendary music and film professionals, and went on to become a sound and stage manager, musical director, public speaker, casting assistant and PA for the "Black Stunt Men Association",
She's worked with "Operation Skid Row" an organization which provides survival and living needs to the homeless and she's received many awards as a pioneer in Hip Hop and as an Educator and for her work with the "Los Angeles Unified School District". During our conversation we discussed the South Central Black Panthers, The Brown Berets, Uncle James Army, RadioTron, Impact Record Pool, Roger Clayton, G Bone, Alonzo, Jazzy Joyce, George Floyd, and the details about her being kidnapped, raped and robbed. 
The songs of the day are: 
New Generation by Creepy Fingers (Square One)- https://impthegreat.com/track/2703226/new-generation (Buy Here) 
Black Boys by Creepy Fingers (District Creepy) - https://impthegreat.com/track/2703221/black-boys (Buy Here) 661 by Creepy Fingers (District Creepy) - https://impthegreat.com/track/2703220/661 (Buy Here) 
Cocaine by Creepy Fingers (Dysfunctional Function) - https://impthegreat.com/track/2703217/cocaine (Buy Here) 
Zip Zag by Creepy Fingers, Vinny McFly & Romeo (Square One) https://impthegreat.com/track/2703224/zig-zag (Buy Here) 
Weed by Creepy Fingers & Imp the Great (Genetics) https://impthegreat.com/track/2703223/weed (Buy Here) Yah Gone Hear Me by Roc Box produced by Eddie Paper and Knockout 
The quotes of the day are: 
"Of all the animals, the boy is the most unmanageable." - Plato "I'm tough, ambitious, and I know exactly what I want. If that makes me a bitch, okay." - Madonna

This episode was sponsored by: www.FromRapToFilm.com 
Cash App contributions can be sent to $RappersOverThirty